About Gynaecological Cancers
Gynaecological cancers affect the female reproductive organs. While any diagnosis of cancer causes anxiety and fear about the future, for many women a diagnosis of gynae cancer can cause additional concerns about issues such as body image, sexuality and fertility.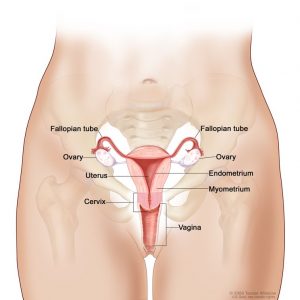 Image: © 2009 Terese Winslow, U.S. Govt. has certain rights
The female reproductive organs are:
In addition, cancers of the placenta or afterbirth are also considered to be gynae cancers.
Unless diagnosed before they have spread to lymph nodes or other organs, gynaecological cancers, even when well treated, can have a poor outcome.
Overall 5-year survival for all gynae cancers combined is 68%, ranging from about 43% for ovarian cancer to about 82% for uterine cancer. All forms of gynaecological cancer have proven harder to prevent and treat when they occur in remote communities and in culturally and linguistically diverse groups such as migrant women and indigenous women.
1 in every 250 women alive today is living with a diagnosis of gynaecological cancer.
Early diagnosis of ovarian cancer remains an elusive goal, but research to find a screening test is ongoing. Money raised by the AGCF will be used to fund research, both through the Australian and New Zealand Gynaecological Oncology Group (ANZGOG) clinical trials, and through laboratory research into the various cancers.
Any woman with a gynaecological cancer should at least have a consultation with a gynaecological oncologist to ensure that the best treatment is being offered. Results of treatment for gynaecological cancer in Australia are comparable with the best in the world.