The ovaries of a mature woman are situated inside her pelvis, loosely attached to the pelvic wall and to the uterus. Each month from puberty until menopause, one of her ovaries produces an egg in a tiny bubble of fluid called a follicle. In the middle of each menstrual cycle, the follicle bursts and releases the egg into her Fallopian tube (ovulation), where it may be fertilized by a sperm.
Ovarian cancer is the leading cause of death from gynaecological cancer in Australia and the sixth most frequent form of cancer in women worldwide. The Australian Institute of Health and Welfare estimates that 1488 women will be diagnosed with ovarian cancer in Australia in 2015. The average age at diagnosis is 63 years, and the chances of a woman developing ovarian cancer before the age of 85 are 1 in 79.
Ovarian cancer has been called a "silent killer", because it typically causes few early symptoms and is usually not discovered until it has spread around the pelvis and abdomen. The 5-year survival is only about 40%.
About 5% of ovarian cancers have spread to the ovaries from another site. The most common primary sites are the breast, stomach and bowel.
Until a screening test has been developed to allow early diagnosis, we will be left with the reality that most patients with epithelial ovarian cancer will be diagnosed with advanced disease.
Only very modest gains have been made in the outcome for these patients over the last 30 years, but the advent of advances in molecular biology and the discovery of targeted therapy are likely to see accelerated progress in the near future. Already, we are seeing surprisingly good outcomes for individual women with these new therapies, and new treatments are being developed and tested at a more rapid pace than ever before.
Ovarian cancer is being managed today by multidisciplinary teams of experts, in an international framework of fundamental and clinical research. New therapies are being tested in international trials, which accrue large numbers of patients in a relatively short period of time. Apart from its poorer funding, this model compares well with the frameworks that have done so much to improve outcomes for breast cancer, leukaemia and lymphoma in particular.
There are four major types of ovarian cancer: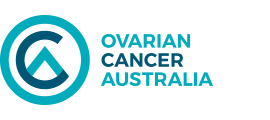 Epithelial tumours account for about 80% of ovarian cancers. They have traditionally been thought to arise from the cells on the surface of the ovaries, and cells lining small cysts near the surface. Recently, it has been demonstrated that some of these cancers, particularly those in women with a hereditary predisposition to ovarian cancer, begin as cancerous changes in cells in the end of the Fallopian tubes.
Epithelial ovarian cancers vary in the rate they grow and spread (i.e. in their degrees of malignancy), but about 20% are very slow growing tumours which are usually still confined to the ovary at the time of diagnosis. These are called borderline or low malignant potential tumours.
The specific cause of ovarian cancer is unknown. One theory is that continuous ovulation, and the subsequent repair of the open follicle, may make the cells vulnerable to DNA damage and to uncontrolled growth. Both pregnancy and combined oral contraceptive pills prevent ovulation, and both are associated with a lower risk of ovarian cancer.
Another theory is that cancer-causing substances may enter the body through the vagina and pass through the uterus and Fallopian tubes to reach the ovaries. One possible cancer causing substance is talc. Particles of talc, in powder used by a woman to dry her genital area, may potentially pass up through the uterus and tubes and irritate the ovaries. This could explain why removing the uterus [hysterectomy] or blocking the Fallopian tubes [tubal ligation] lowers the risk of ovarian cancer.
About 10% of epithelial ovarian cancers occur in women with a hereditary predisposition. There are two hereditary forms of ovarian cancer:
Those associated with the breast-ovarian cancer syndrome, which are due to changes called mutations in the BRCA1 or BRCA2 genes. These gene mutations may occur in both men and women, and 50% of their children will inherit the gene. Breast cancers in patients with this syndrome generally occur in the 30s and 40s, whereas ovarian cancers have an average age of about 50 years.

Those associated with the Lynch syndrome, (hereditary nonpolyposis colorectal cancer syndrome or HNPCC). Bowel and endometrial cancer are the most likely cancers in Lynch Syndrome, but the risk of developing ovarian cancer is about 10%.
A woman with hereditary cancer usually, but not always, has a strong family history of breast, ovarian or bowel cancer.
A woman who has been shown to carry the BRCA1 or BRCA2 genes should be offered prophylactic removal of her tubes and ovaries once she has decided she no longer wants any more children. This operation will decrease her risk of developing ovarian and Fallopian tube cancer to zero, but there will still be about a 1% chance that she could develop a peritoneal cancer. It will also decrease her risk of breast cancer by about 50%. She may decide to further reduce her risk of breast cancer by undergoing prophylactic removal of both breasts (bilateral mastectomy), and breast reconstruction.
Germ cells tumours normally occur inside the ovary, but may occasionally occur outside the ovary, presumably because of errors during development of an embryo. The most common germ cell tumour is the benign dermoid cyst, but about a third of germ cell tumours are malignant. The remainder of this section is about malignant germ cell tumours, which account for about 2-3% of ovarian cancers.
Germ cell tumours predominantly affect teenage girls and women in their 20s and 30s. Less than 5% of germ cell tumours are found in girls before puberty.
The most common germ cell tumor is the dysgerminoma, which is the equivalent of the more common testicular seminoma. Other less common types include the immature teratoma, endodermal sinus tumor, embryonal carcinoma, and choriocarcinoma that is not related to pregnancy (non-gestational). Some germ cell tumours are of mixed types.
Germ cell tumours grow rapidly, and the woman usually reports quite marked lower abdominal or pelvic pain. About 70% of germ cell tumours will be stage 1 at the time of diagnosis, and most will only involve one ovary.
Her surgical management will usually involve removing just the affected ovary and adjacent Fallopian tube (unilateral salpingo-oophorectomy). The uterus and the other tube and ovary can be left, so that she can have one or more children in the future if she so wishes.
Stromal tumours of the ovary, also called sex cord-stromal tumours, arise from cells that normally produce hormones, so the resulting tumours also tend to produce hormones.
Granulosa cell tumours usually produce the female hormone oestrogen. A woman with this tumour is likely to have irregular menstruation or, if she has passed through menopause, abnormal vaginal bleeding. The oestrogen may stimulate the endometrium, and about 20% of these tumours have an associated endometrial cancer. A girl may develop a granulosa cell tumour before the age of puberty and the hormone secretion may cause early onset of menstruation and breast development (precocious puberty).
Sertoli-Leydig cell tumors can produce male hormones, such as testosterone. A woman with this tumour can develop male characteristics such as facial hair growth, a process called masculinization or virilisation.
These tumours are best treated by removal of her uterus (hysterectomy) and both her tubes and ovaries (bilateral salpingo-oophorectomy). If she is considering having children, it will usually be possible to just remove the affected ovary (unilateral salpingo-oophorectomy)
Stromal tumours are slow growing, and are usually confined to the ovary at the time of diagnosis. After removal, a woman has a good chance of being cured, and an excellent chance of living for many years in good health. Some stromal tumours may recur after many years. Their progress can be monitored with a blood test called inhibin or anti-mullerian hormone.
Cancer arising in the Fallopian tube has been thought to be rare, although recently, it has been demonstrated that, in some cases, a woman's epithelial "ovarian" or peritoneal carcinoma has probably started in her Fallopian tube. This is particularly likely if she has a BRCA1 or BRCA2 gene mutation. There may be a watery vaginal discharge, but otherwise her symptoms will be comparable to those of a woman with epithelial ovarian carcinoma.
These cancers act in a similar way to epithelial ovarian cancers and are treated accordingly with surgery, usually followed by chemotherapy. Her response to treatment will be similarly dependent on type, grade and stage of the cancer, as will her chances of recovery and survival.