When Angus Callister's mum asked, "if I ever do something really crazy, would you do it with me?" Angus didn't expect 6 days of running in the Sahara Desert. 
"Mum has always been a bit of a crazy runner," said Angus. "I'm only, 23 so it's all kind of new to me."
The seven-day, six-stage, 250 km ultra-marathon in the Sahara Desert – the Marathon Des Sables – is a hell of a place to start. It has been described as one of the world's most punishing races. Competitors need to cope with searing heat during the day, frequent sand storms and freezing temperatures at night. As if that wasn't gruelling enough, competitors must be self-sufficient. All food, clothing, sleeping gear and essential equipment must be supplied and carried by the athlete each day. Only water is supplied by race organisers.
"On the third day, I remember very well that it was just over 40 degrees. It was one of the shortest stages but I didn't hydrate enough the day before," said Angus. "I was completely loopy walking along with Mum. I thought she said something but she didn't say a word. I was losing my mind." 
Approximately 800 athletes took part in the 2019 race. The course traversed 250 kilometres of sand dunes – both small and large – mountains with gradients of up to 25%, stony plateaus, river beds and other challenging terrain.
"I am proud to say that Angus and I ran the race together as a team," said his mum, Sharon. "We endured the highs and lows that would be expected during such an event. There were a few times we felt like giving up but somehow we made it through together."
While training for the event, Angus was keen to ensure he could use the experience to help others. He chose to raise funds for the Australian Gynaecological Cancer Foundation. 
"The reason that I chose the AGCF was because I am a good friend of Cormac Sullivan, who is the son of Cindy Sullivan. Unfortunately, she passed away a few years ago."
Angus and Cormac are friends from Saint Ignatius' College Riverview. When Cormac's mother Cindy Sullivan sadly passed away from cervical cancer, it caused a ripple of trauma for all that knew her – including the Riverview friendship group. 
"I'd been very lucky in my life," Angus said. "It was really hard seeing the Sullivan family lose someone so precious, I wouldn't want that to happen to me. So I thought that if I was going to do something this crazy… then I am going to do it for good."
While Angus initially set his goal for $3,000, he quickly achieved this and set a new target. With his online and cash donations, Angus ultimately raised just under $5,000. 
"We are all delighted with the result," said his mum, Sharon, "for Angus to also use this event as a platform to raise funds for a very worthy cause was the ultimate act that inspired me."
Angus knows  his fundraising has a huge and positive impact. "One of the taglines I had when I was fundraising is that we all have a mother, sister, or daughter," he explained. "Gynaecological cancers don't have enough exposure. It's really important to raise awareness for lesser-known causes that are still having an insane effect on people and families." 
Angus and his Mum were motivated to complete this gruelling race to raise money for the AGCF, so other friends and families won't have to suffer. But Sharon Callister also wants to thank the education Angus received at Riverview – particularly their Men for Others program – that shaped the young man he is today. "Whilst I am a keen and experienced distance athlete, I do not believe that I was solely responsible for motivating Angus. I believe his Riverview education instilled the motivation, discipline and the ability to think beyond one's own self."
Angus agrees, "I can't thank Riverview enough for the ethos that they so proudly represent. I think that that follows you through life and you're more inclined to do things like go crazy in Morocco for a week and do it for a good cause."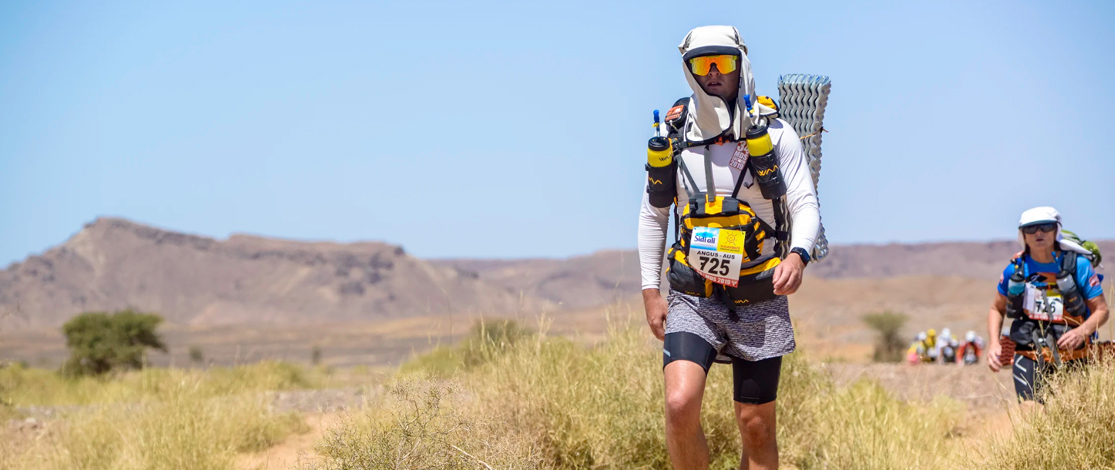 "To compete in such a tough physical challenge at the age of 23 was a huge achievement for Angus," said his Mum. "But it was also very significant for me – how many mothers get to do something so amazing and crazy with their sons? Not many at all."
For Angus, the feeling of finishing the race was the greatest feeling he's ever had in his life. "It was completely overwhelming," he said. But it's even better knowing that the money he raised is going to fund research that could save the lives of countless women.  
To donate to the AGCF visit https://www.givenow.com.au/agcf. All money will go to the Cindy Sullivan Fellowship, which supports an outstanding science, nursing, allied health or medical graduate who seeks funding to undertake further research into gynaecological cancers.