Keep in the loop! 
This is your hub to stay up-to-date with all things AGCF.
The silence around vulval cancer means people are missing the signs that they have it
Experts warn that "Vulval cancer is often overlooked, but its impact can be devastating," While less common, it affects four individuals daily in the UK, with rising mortality rates.
Most cases of vulval cancer are linked to Human Papillomavirus (HPV) infections and lichen sclerosus (LS). Because of its vague symptoms and societal taboos, raising awareness and implementing preventive measures are crucial to saving lives
Read the article here…
Mother's Day Lunch at The Golden Century
A big thank you to the President of the Way In Network, Annie Tang JP, and the Board, for their continued support of AGCF.
At the Mother's Day Lunch in May, The Way In Network ladies donated $20,000 to AGCF.
Thank you to the owner of the Golden Century, Eric and his wife Linda Wong, for hosting the day and all guests who attended a wonderful lunch.
Fast-tracked cervical cancer screening saving lives in remote West Australian communities
A new cervical cancer screening project in Western Australia's remote areas is reducing waiting times for testing from weeks to a matter of minutes using new technology.
It's hoped the method will be one day expanded across the nation.
WA's Country Health Service Obstetrics and Gynaecology head Jared Watts said early detection was crucial.
"Women can do their own test and it takes away that embarrassment, takes away the pain and discomfort," he said. "If we do detect the changes in the cervix early it is very preventable."
Cancer Research Visit
AGCF Prof Neville Hacker and former CEO Kim Downes meet with Dr Caroline Ford and her team at the Lowy Cancer Research Centre to discuss ovarian cancer and endometrial cancer research. AGCF with the assistance of the Mazda Foundation provided funding for Dr Ford's teams endo cancer research.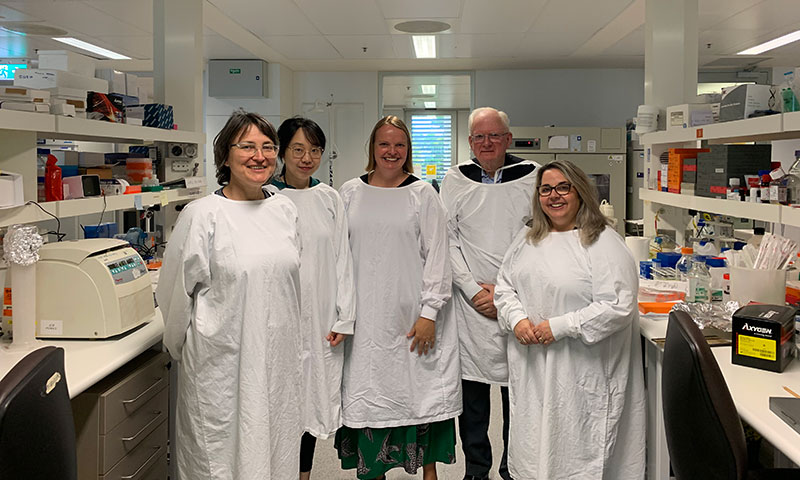 National Cervical Cancer Week
National Cervical Cancer Week launch at Parliament House, November 2022. Attended by AGCF Board Member Leonie Young.
Cervical Cancer
Self-Screening
From 1 July 2022, all women due for their 5-yearly cervical screening test (CST) were eligible for self-collection. The specimen is collected by introducing a small soft swab similar to the swabs used for COVID testing into the vagina.
Participation in the National Cervical Screening Program has fallen in Australia over the past 20 years and was severely impacted by the COVID pandemic. Over a million Australian women eligible for cervical screening are either under-screened or have never been screened. Only around five in 10 women participate in the National Cervical Screening Program (NCSP) at the recommended interval.
Rural Women's Health
It may be surprising to know there are eight Gynae cancers, and that every two hours an Australian woman is diagnosed with a gynae cancer.
Women with gynae cancer in rural areas often have a great deal of trouble accessing an accurate early diagnosis and treatment. In particular, women living in outer regional, remote or very remote areas may have difficulties accessing gynae health care due to distance and the limited availability of health services, and they often lack practical and emotional support. Much is being done to extend access to tele health cancer support services and practitioners, including oncology nurses, however many services are fragmented or in major city centres.
'Mystic Garden' has been painted by Diana Smith in support of Gynaecological Cancer Awareness Month.
Painted in acrylic on stretched canvas (167 x 167 x 3.5cm) and inspired by the lush beauty of nature which is a recurring theme of Diana's art.
I am drawn to calm blues and foliage greens with pops of vivid pinks, reds and oranges. Colour, colour and more colour!
I don't have a strict style.  My work hovers between impressionist and abstract, stylised versions of similar themes. I enjoy both. Botanicals and landscapes dominate with occasional bird cameos.
It's difficult to explain the joy I get from painting.  It starts with constant ideas and yearning, fearlessly splashing paint around (because you can always over paint if it doesn't work out). Then surprise at what appears on the canvas (not always what I planned) and happiness when I reach a finish point. Happiness again when others connect with what I have created.
September is Gynaecological Cancer awareness month and I am donating 25% of the sale price of 'Mystic Garden' to AGCF so, if you connect with it, message your interest and together we can do our bit to help fund Gynaecological Cancer research.
'Mystic Garden' – $1200
Email: [email protected]
Who we are
We are the Australian Gynaecological Cancer Foundation.  The only organisation that focuses on funding laboratory research into all eight gynae cancers.
Subscribe to our newsletter
Get in touch
Where to find us:
1/1 Jamison Street, Sydney NSW 2001
For general enquiries:
telephone: +61 2 8235 2606
email: [email protected]
Together, we're giving women hope.
Donations of $2 or more are tax deductable in Australia.
ABN: 17 152 685 295